Inbound marketing is the art and science of attracting people to your site, and converting them to leads, customers, and finally, promoters or brand ambassadors. It is comprised primarily of keyword, search, social and content strategies, although earning referrals from complementary sites is abolutely relevant as well.
The idea is to be present and appealing whenever and wherever your prospects are hunting for something you sell. Having caught their eye, you further intrigue them with content that adds value, for free, but might require some contact information, like an email address. Once you have a relationship with them, you continue to provide value until they are ready to reward you for all your hard work by paying for it. This isn't an argument for a freemium model, but rather a great example of how video reduces friction in your inbound marketing funnel, increasing conversion rates and cost of acquisition.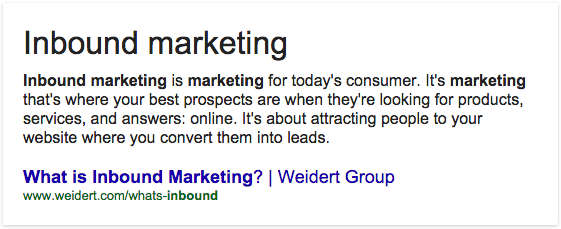 Know Who You Want to Reach
Start with at least a concept of your target customer personas. It isn't really possible to be omnipresent on the internet, unless you are giant company like Google, Yahoo or Amazon, so beginning with a more narrow view of who you are trying to reach will guide all subsequent decisions, and ensure you are being efficient in your efforts.
For an in-depth guide to creating customer personas, we love this post by Gregory Ciotti of Help Scout, and we also published a blog post about this topic recently.
The basic concept is to consider the unifying traits of your ideal customers that help you segment them according to their needs and interests. Naturally, their needs and interests extend beyond your products or services. A broader understanding of your target customer personas provides the context in which they are searching for a solution you might offer. This understanding enables you to get in their mindset when crafting a content strategy, picking publishing platforms, and making media buys.
Go Where They Go
With a handle on your target prospects needs and interests, you can begin trying to reach them by growing your presence in places they frequent. This could mean online only, or it could be offline, in the form of a networking event or conference. This may sound like common sense, and to a certain extent it is, but talk to anyone about how much value they actually got out of the last networking event they attended, and don't be shocked if they only mention the free drinks. The idea is to go to the right places, not every place, or just the ones you think will work.
This has important implications for platform selection when considering online marketing channels. There is no point to making Vines if your customers aren't present there, but you might want to consider sharing videos on Facebook or Instagram, or looking for relevant subreddits and participating in those discussions.
You can also seek out guest publishing opportunities with blogs or complementary websites that your customers are seeking out as well, and high-value video content is often more appealing than a plain text article. This is likely because 80% of site visitors will actually watch a video, whereas only about 20% will read content.
Regardless of the specific platforms you are choosing, the goal is to be visible and to provide valuable content, rather than being disruptive and getting in their face (e.g. banner ads or popups). It is as simple as a helpful comment, tip, or video snippet in the right place, at the right time. This is relatively easy, but isn't easy to do well, and requires actively searching for new collaborations, guest blog opportunities, subreddits, Quora questions, and other platforms that might be relevant.
Short, entertaining, emotional, or educational videos are ideal to include in this phase of your marketing strategy. Video trumps images or text for communicating this type of content, and also adds to your reach in terms of the number of platforms you can use, since some are video-only, like YouTube and Vine.
The exact length to produce will vary from platform to platform since some, like Instagram or Vine, have video content restrictions, but if you're embedding it in a blog post or sharing on Facbeook, quality trumps quantity, every time.
Be Easy to Find
You got the word out and are in step with your customers on their journey towards the ultimate purchase decision. If your top-of-funnel inbound strategy is on point, they should be aware of either the solution you offer, or even better, your brand. Still, they are unlikely to search directly for your company name yet. They don't know you well enough, and don't trust you. They want to know what else is out there.
It is hard to be discovered on the internet these days. There is an overwhelming volume of content, not to mention lots of competition and click bait. It can be really difficult even for those producing quality content to become visible, and even more challenging to be in front of the right person at the right time. Since video enables you to be present on more channels, and increases the likelihood people will actually consume and share your content, it is an ideal marketing tool for becoming highly visible on the web.
Video's position as the most valuable content (MVC) form out there stems partly from its impact on your site's ranking on search engine results pages (SERPs). Video helps with all aspects of search engine marketing, including paid search, because site visitors who watch a video will spend more time on that page, sending positive signals back to the search engine about your landing page. Since it is a rich content form, especially if a video transcript is provided, and the video title, description and tags are all in line with your keyword strategy, a page containing video is likely to outperform an identical page that does not in terms of search ranking, time on site, bounce rate, leads generated, and other key visitor engagement stats.
Add Value, and Video
Once someone is on your website, landing page, or social profile, and engaged with your brand, you can start building a relationship by getting to know them better - starting with an email address. Requiring an email address to view a video, or capturing it with a customized post-play screen, are two great ways to capture a lead and grow your email list. Coupled with a relevant, timely, and personalized drip email marketing or onsite messaging campaign, they should be hooked.
So hooked, in fact, that according to data from the Aberdeen Group, you could potentially almost double your website conversion rate. They found that video users saw conversion rates of 4.8% compared to non-video users who saw conversion rates of just 2.9%.
The key here is to provide value, and how you achieve that is tied up in your customer personas. How well you personified your ideal customers will dictate how engaging and relevant they find your video content to be, as well as the content surrounding it. If you missed the mark, you probably need to spend more time on fully understanding their needs or motivations.
Video is just one component of a successful inbound marketing strategy, but it is arguably the most important. Have you implemented video in your inbound marketing funnel? What were the results? Tell us about it in the comments below!

blog comments powered by Disqus
x
Don't miss a post - get notifications by email! Learn how to:
Leverage Video for Marketing, Business, & Social Media
Produce Higher Quality Online Video
Take Advantage of the Latest Video Trends
Enter your email and stay ahead of the curve,